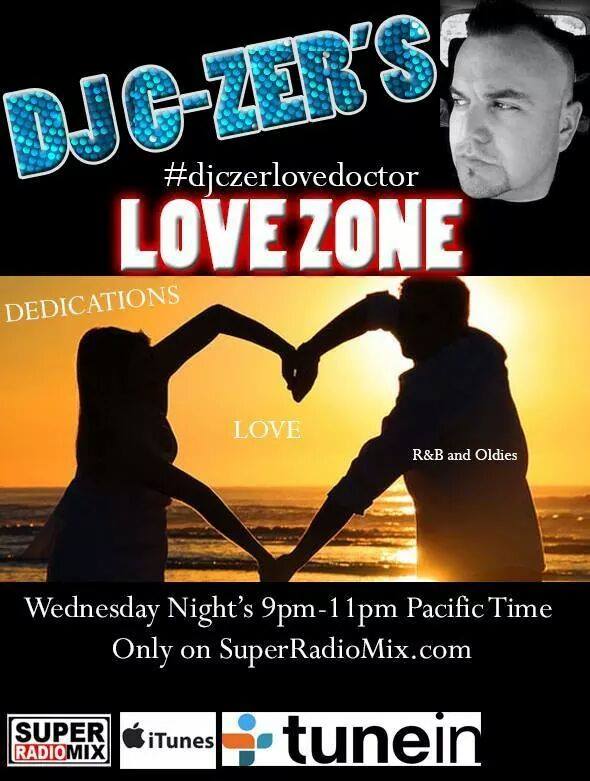 Head on over to SuperRadioMix.com to catch me every Wednesday from 9pm – 11pm Live on The Love Zone. Taking instant requests from Today and Back in The Day. Lots of music is being hidden away on traditional radio. Not at SuperRadioMix.com, you'll be hearing all your favorite jams. If you don't you want to make sure to jump on that hour block on your cell phone, mobile device, or computer. Tune in from anywhere with an Internet Connection. I truly mean anywhere lol.
Isn't it nice that we can listen to pretty much anything we want. I grew up in a family full of music lovers, singers, musicians, and I can tell you that from the classic, I will always appreciate the music I grew up with. I think most folks would agree. Some of those hits brings us back to our first date, our first kiss, and that's truly what The Love Zone is about.
You know it's pretty sweet when you can listen to that jam that reminds you of that time when…. We thrive on the "good ol' memories."
The DJ C-Zer music collection goes way way back to the 40s. You can rest assured you can hear anything from 1940 until today that made the Billboard Top Hits. When it comes to the hits, that's when people have that "aha" moment. You know what I mean? You'll enjoy the music that is about to transpire before your very ears.
Always drop your requests for this show at http://www.SuperRadioMix.com the online station that has been blasting years of music for over 9 years. Can you believe, we've had DJs come on and spin their mixshows and air shows and even MCs. They have come and gone and always been found by on air personalities. I guess it's all about that commercial free radio ;-).
From Kenny Loggins – Footloose to Jagged Edge – Let's Get Married you can rest assured you'll catch it on the Love Zone only on http://www.SuperRadioMix.com. Derived from listeners all the way around the world, we don't turn anybody down to their love for the music. That's right, it's all about the listeners. Don't you hate it when you call into a radio station and request a song only to hear it 2 hours later and your baby boo already changed the station to some crappy repeated auto DJ like Pandora lol. Sad but true, it happens to the best of us.
Actually myself, DJ C-Zer, I remember staying up until 3am to finally get into the station that was too busy on the phone lines to request my song to that special lady. Only to not hear it play. We turn nobody down. I mean nobody lol. It's all about the love of the music for the peeps. That means you!
Feel free to comment below and post and let us know what is your favorite song of all time. That love zone that reminds you of? How were you feeling? Do you still think about that love here and there? Don't lie you know you do ;-).
Much love, always,
DJ C-Zer
#thelovedoctor